boss micro for Micro Data Centres
The ideal solution for monitoring edge data centres
The increase in network traffic due to the growth of the digital economy and the simultaneous demand for very low response times are making "edge data centre" architecture increasingly popular. These provide local processing and a fast response (low latency) as well as being an optimised communication node to the cloud. This change in approach is seen as the reverse of cloud computing, or "taking processing to the data.
To support this architecture, more and more micro data centres are being built. These are compact solutions including the containment infrastructure (usually a rack), an electrical power unit and UPS, cooling, access control and fire protection system. The racks can house different types of servers, even with very high densities; the solution can thus be used in different contexts.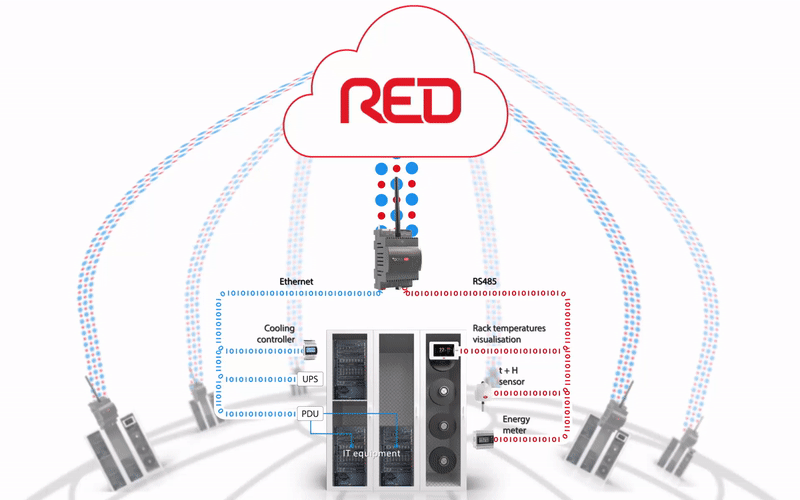 Fitting perfectly into this context is boss micro, the latest addition to the boss family, ideal for local monitoring of a small number of devices, while ensuring all the advantages of the boss range, above all high connectivity. Similarly to the architecture of IT servers, the supervisor is no longer a centralised DCIM but rather a system of local and remotely connected devices to monitor and manage the network of infrastructure.
Some advantages
---

Compactness and versatility
In just 4 DIN modules, boss micro can connect up to 15 devices via Fieldbus using standard protocols (Modbus, SNMP, BACnet), both over RS485 and Ethernet. Flexibility and easy configuration simplify integration of any type of device, in particular for cooling and power (UPS, PDU, ...).

Added value for the system
boss micro is not a simple gateway, but rather an edge device in its own right, because in addition to connecting the field devices it provides local processing, storing data and displaying them as trends as well as on intuitive and easy-to-navigate responsive web pages for all devices, even smartphones.. Push notifications (mail, SNMP traps, XML push, scheduled reports, ...) are also possible for optimal asset management.

Security
Cybersecurity is at the forefront of the requirements of distributed architectures such as edge data centres. boss micro shares the same advanced security measures (HTTPS, TLS 1.2, user management, ...) as the entire boss family and, just like the others, undergoes a periodic security assessment, performed by outside organisations.

Highest-level connectivity
Various connectivity options mean boss micro can be integrated into different local network architectures, with Ethernet cable or WiFi, as well as guaranteeing remote connection with the built-in 4G modem. This represents a major advantage both in terms of easy navigation of the webserver and if needing to develop a network of micro data centres connected to remote monitoring systems for optimal service. The availability of the MQTT protocol makes integration with the most widely-used standard systems on the market even easier.

Alternatively, the RED platform represents the ideal completion of the solution, being able to connect, monitor and manage multiple sites with advanced data analysis tools, in conceptual terms an EdgeDCIM connected to the cloud-based coordination system.
boss micro is an ideal solution for many other applications with similar characteristics,
and also offers other specific benefits for various different sectors: for further information,
see the documentation on the product page
FIND OUT MORE ABOUT THE PRODUCT